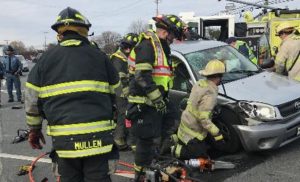 MIDDLETOWN, DELAWARE (3/21/2017) A 65-year-old woman was critically injured Monday afternoon in a two-vehicle crash north of Middletown, authorities said.
The collision was reported at 4:10 p.m. in the 4000 block of Summit Bridge Road (U.S. 301/Route 896).
The woman was trapped in the vehicle and extricated by firefighters from Volunteer Hose Company of Middletown.
She was treated by emergency medical technicians and New Castle County paramedics for head, chest and left wrist injuries, said Paramedic First Class Yvonne T. Russell. The woman was then flown to Christiana Hospital in Stanton by a Delaware State Police helicopter.
The crash is under investigation by state police.