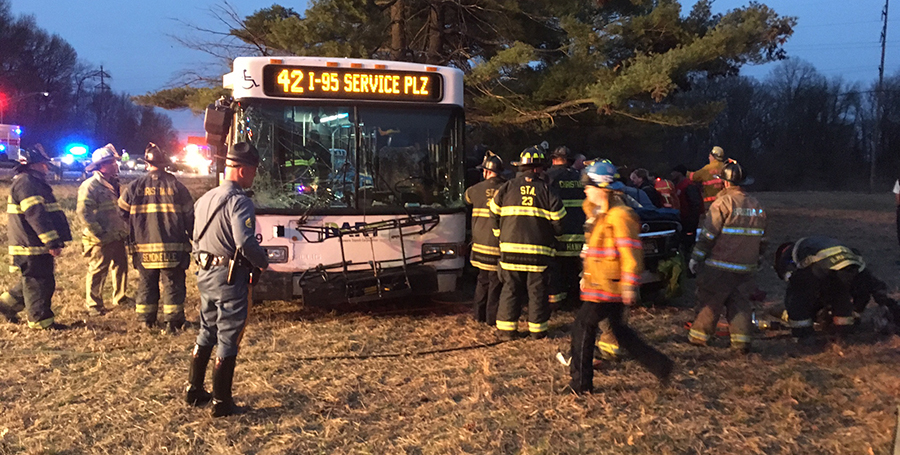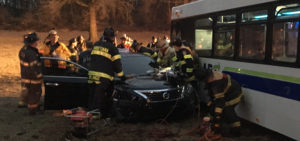 NEWPORT, DELAWARE (2/27/2017) Six people were injured this evening in a crash on Interstate 95 near Newport involving a DART bus and two other vehicles, according to reports from the scene.
The crash happened shortly before 6 p.m. just south of Route 141, at the DelDOT sandbox maintenance area.
The wreck closed all but the right two lanes of traffic.
Two people were trapped in a vehicle wrapped around the bus and they had to be extricated by firefighters. They were taken by ambulance to Christiana Hospital in Stanton.
Four people, including the driver, were injured on the bus.
No injuries were reported in the third vehicle.
None of the injuries are believed to be life-threatening, Delaware State Police said.
They later released these details on the crash:
"James D. Mullin, 37, of Wilmington, was operating a 2001 Saab 9-5 and was traveling in the right center lane on southbound I-95 just south of DE Rt. 141 (Basin Road). Mullin then made a sudden lane change and entered into the center lane of I-95 where his vehicle then struck a 2013 Nissan Altima, which was being operated by Traimer L. Flowers, 21, of Newark.
"The force of the impact caused the Altima to veer to its left where it then struck the front of a 2014 D.A.R.T. bus, which was being operated by Cooper G. Russell, 46, of Newark. All three vehicles then left the east edge of the roadway where they came to rest.
"Traimer Flowers, as well as a passenger in his vehicle, were treated at the scene by New Castle County paramedics. They were then transported by ambulance to the Christiana Hospital where they were treated for their non-life threatening injuries.
"Cooper Russell, as well as three passengers on the DART bus, were also treated at the scene by paramedics before being transported to the Christiana Hospital. Their injuries were also non-life threatening.
"James Mullin was not injured. He was cited by troopers with Driving Under the Influence of Alcohol, Improper Lane Change, and Failure to Signal a Lane Change."
Christiana and Minquas of Newport fire companies responded.
6 injured in Christina school bus crash in Pike Creek