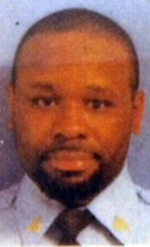 SMYRNA, DELAWARE (2/4/2017) The death of an officer during a siege by prisoners at Vaughn Correctional Center near Smyrna has been ruled homicide by trauma.
An autopsy was performed on Lt. Steven R. Floyd by the Delaware Division of Forensic Science and the finding was announced Friday night by Delaware State Police.
Police said no other details from the autopsy would be released while the investigation into his death is continuing.
Floyd was pronounced dead Thursday morning after state police stormed Building C at the prison complex in southern New Castle County. Another hostage, a prison counselor, was safely freed. Two other hostages had been freed earlier.
The siege began Wednesday morning.
During a graduation ceremony Friday for 39 new Department of Correction officers, Commissioner Perry Phelps presented to the son of Floyd a department Medal of Valor. He also announced the posthumous promotion of Floyd to the rank of lieutenant.
"Please know we mourn beside you," Phelps said.
Gov. John Carney released a statement saying, "Lieutenant Floyd was a dedicated member of our law enforcement community who, for 16 years, accepted the challenge of doing a difficult but important job for the people of our state. We owe him a debt of gratitude. Along with his family and the rest of Delaware, we continue to mourn his loss. As we honor Lieutenant Floyd, we will commit ourselves to ensuring that our correctional facilities remain secure and our employees remain safe."
Police said investigators cleared the crime scene and Building C was returned to Department of Correction control at 10 p.m. Friday. Detectives are continuing to conduct interviews and examine physical and video evidence.
1 hostage dead as prison siege ends