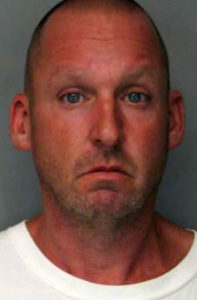 CHRISTIANA, DELAWARE (2/2/2017) A 46-year-old man was arrested after a bus-stop attack at the Christiana Mall, the Delaware State Police said.
The incident occurred about 1:55 p.m. Wednesday in front of the Nordstrom store.
Police said Richard J. Williams Sr., of Wilmington, was armed with a large serrated kitchen knife when he chased an unknown male during a fight.
The victim fled without any injuries.
Williams then attacked, police said, a 22-year-old man who was standing at the bus stop, swinging the knife and striking him on his hand and wrist.
Mall security staff then surrounded Williams, preventing him from reaching other potential victims, until two state troopers arrived.
One ordered Williams to drop the knife, but he refused and lunged at them with it, police said.
More troopers and New Castle County police arrived and were able to subdue Williams after a county officer used a stun gun on him.
Williams was taken by ambulance to Christiana Hospital in Stanton, where he was treated and police then charged him with second-degree assault, possession of a deadly weapon during commission of a felony, two counts of aggravated menacing, resisting arrest, offensive touching of an officer and disorderly conduct.
He was being held at Young Correctional Institution in Wilmington in lieu of $73,050 cash bail.
The 22-year-old victim was taken by ambulance to Christiana Hospital and treated for injuries that police described as serious but not life-threatening. Police said they didn't think he had been specifically targeted.
A trooper also suffered a minor injury and was treated at Christiana.