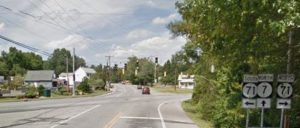 RED LION, DELAWARE (2/4/2017) A 61-year-old man died after a crash in Red Lion on Friday, the Delaware State Police reported this morning.
The crash happened about 5:30 p.m. on Bear Corbitt Road (Route 7) at the intersection with Red Lion Road (Route 71).
A northbound 2008 Ford Escape struck the rear of a 1994 Honda Civic that was stopped for a red light at the intersection. The Civic then struck the rear of a 2014 Chevrolet box truck that also was stopped for the light.
The driver of the Escape, George I. Woodlaver IV, of Chester Pennsylvania, was unresponsive at the scene and was pronounced dead at Christiana Hospital in Stanton at 6:33 p.m.
Police said their preliminary investigation suggests Woodlaver may have suffered an acute medical condition prior to the crash.
The driver of the Civic was identified as Colton E. McFatridge, 26, of Bear.
The driver of the truck was identified as Joseph J. Tabino Jr., 58, of New Castle,
Police said both were wearing seat belts and were uninjured.