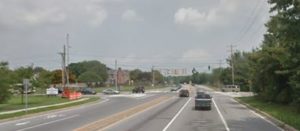 UPDATED STORY: Police release name of man struck, killed on Old Baltimore Pike
BEAR, DELAWARE (1/12/2017) A 25-year-old Newark man was killed when he was struck by an SUV on Old Baltimore Pike this morning, Delaware State Police said.
The pedestrian fatality happened about 4 a.m. just west of the Salem Church Road and Salem Woods Road intersection.
The man killed was pronounced dead at the scene. His name was being withheld by police pending notification of next of kin.
Police said Maria Campos, 50, of Bear, was driving a 2000 Chevrolet Tahoe westbound when she ran over the Newark man who was laying in the roadway.
He was dragged several feet until the Tahoe came to a controlled stop, police said.
There were no other injuries.
Alcohol use on the part of the Newark man is considered a factor in the collision, police said.
Old Baltimore Pike was closed in the area about 2.5 hours as police investigated.