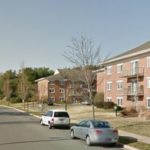 DOVER, DELAWARE (1/13/2017) Two Maryland men have been arrested and face first-degree murder charges in a Dover homicide, city police said this morning.
Javan Cale, 31, was shot to death at the Clearfield Apartments on Tuesday night.
The Kent County (Maryland) Sheriff's Department arrested Depaul Wilson, 35, and Guy Jones Jr., 27, both of Worton.
Dover Master Cpl. Mark Hoffman said they are awaiting extradition to Delaware.
Other charges they face in Delaware include home invasion, first-degree attempted robbery, first-degree conspiracy, possession of a firearm during commission of a felony and by a person prohibited.
31-year-old man shot to death in Dover