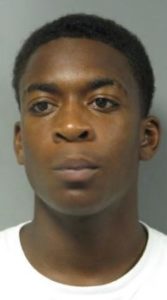 HARRINGTON, DELAWARE (1/5/2017) A Dover man sought in connection with a shooting on school grounds in Harrington is now in custody.
Trequon T. Seth, 19, of the 1400 block of Hopkins Ave., turned himself in at Harrington Police Department on Tuesday,, Capt. Earl K. Brode said.
The shooting happened Sunday outside Lake Forest South Elementary School on Dorman Street. A 17-year-old was wounded in the leg.
Seth was charged with first-degree assault, possession of a deadly weapon during commission of a felony, first-degree reckless endangering, tampering with physical evidence and second-degree conspiracy.
He was being held at Sussex Correctional Institution near Georgetown in lieu of $109,000 cash bond.
1 captured, 1 sought after teen shot outside Harrington schools