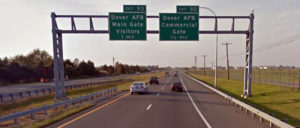 DOVER, DELAWARE (1/5/2017) The speed limit is increasing on a section of Route 1 in the Dover area as well as on the Puncheon Run Connector, the Delaware Department of Transportation announced.
On Route 1, the increase from 55 mph to 60 mph will be between Trap Shooters Road, just south of the St. Jones River, to the Puncheon Run Connector, which links the toll highway with U.S. 13 northwest of Dover Air Force Base.
On the connector, the limit will be increased from 50 mph to 60 mph, DelDOT said.
The sign change implementing the new limits is expected to happen next week, unless delayed by weather.
DelDOT said vehicles have been consistently traveling faster than the existing speed limits along these roads and an engineering review found the new limits would be reasonable and safe.
"The higher speed limits are expected to reduce the variance of vehicle speeds, are consistent with the design of the roadway, and provide a transitional speed limit between the existing 55 mph limits along both State Route 1 and U.S. Route 13 south of Dover, and the existing 65 mph limit along State Route 1 north of the Puncheon Run Connector," according to a DelDOT news release.