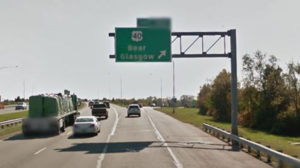 BEAR, DELAWARE (11/5/2016) A 42-year-old woman was injured when the minivan she was driving crashed and rolled onto its side on southbound Route 1 in Bear, authorities said.
The crash was reported at 4:19 p.m. Friday at the U.S. 40 (Pulaski Highway) off ramp.
The woman was trapped in the vehicle about 15 minutes until firefighters from Christiana and Delaware City used the "Jaws of Life" to cut open the minivan.
She was treated for arm and leg injuries, then taken by ambulance to Christiana Hospital in Stanton in serious but stable condition, said Sgt. Abigail E. Haas of New Castle County paramedics.
The crash is under investigation by Delaware State Police.