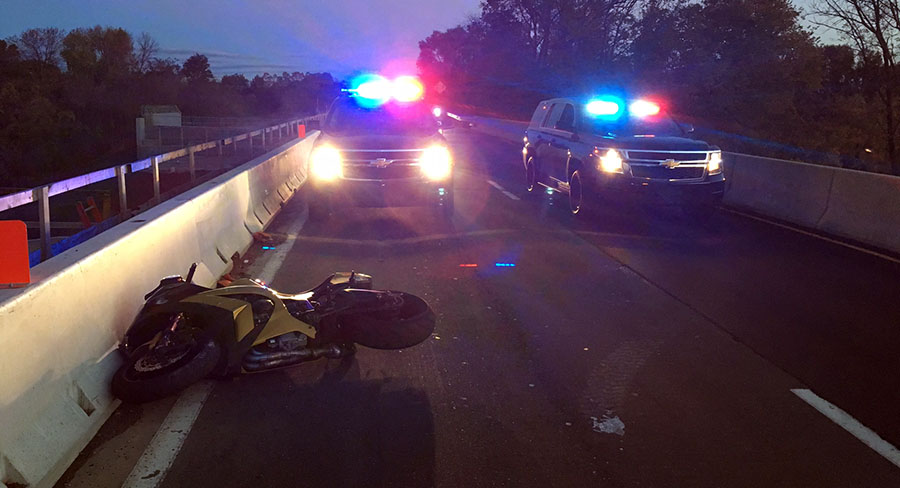 NEWPORT, DELAWARE (10/31/2016) A motorcyclist was killed this morning in a crash on southbound Route 141 (West Basin Road) at Interstate 95, the Delaware State Police said.
The crash with a car was reported at 6:41 a.m.
Police identified the victim as Yusufu K. Gibson, 41, of Wilmington.
He was driving a 2013 Kawasaki motorcycle between the left and right lanes at high speed, then merged into the left lane and struck the face of a guard rail on the east side of the road. The motorcycle then hit the left side of a 2013 Linoln MKZ that was southbound in the left lane.
Gibson was ejected from the bike and landed in the left lane of the road.
The driver of the car, Royse Britt, 35, of Wilmington, brought the vehicle to a stop in the left lane.
Gibson was treated at the scene by New Castle County paramedics, then taken by ambulance to Christiana Hospital in Stanton, where he died.
Britt was wearing a seat belt and was not injured, police said.
Southbound Route 141 was closed as police investigated and traffic was jammed beginning before Newport. All traffic was being diverted onto I-95.
DelDOT reported at 9:31 a.m. that all lanes were reopened but there were still some delays in the construction area.