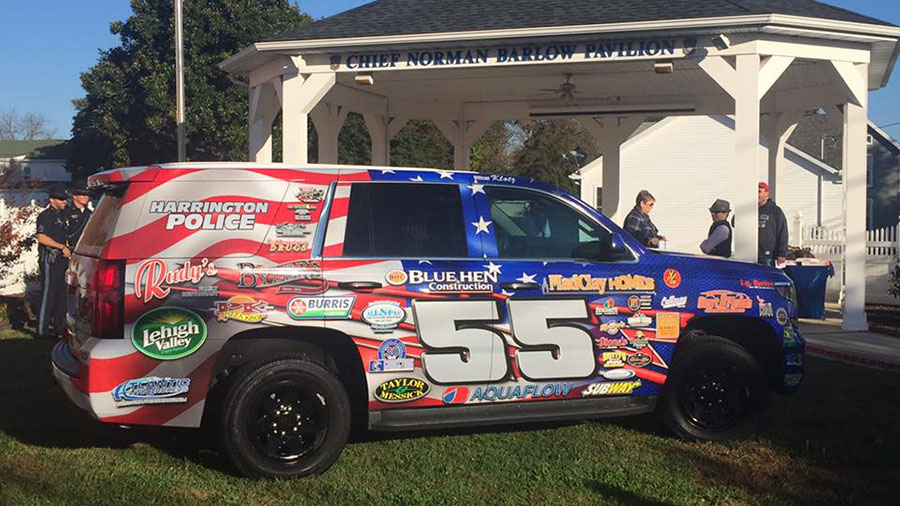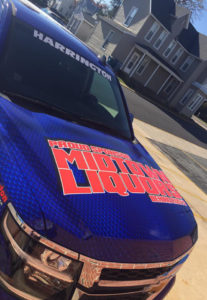 HARRINGTON, DELAWARE (11/5/2016) A colorful new community policing vehicle made possible by donations from area businesses was unveiled by Harrington police on Friday.
The Chevrolet Tahoe SUV will be used by Patrolman First Class Carl Klotz in his role as community policing officer and not for routine patrols.
Police Chief Norman R. Barlow and other department members displayed the vehicle for more than 30 local business owners at Freedom Park.
The Tahoe is covered in a full body wrap from Xtreme Graphix near Milford, with a race-car inspired theme and American flag background, said Sgt. Adam Gillespie, public information officer.
Businesses sponsoring the project have their company logo displayed. A one-time fee includes this advertising for the 7-10 year life of the vehicle. Sponsorship ranged from $600 to $3,000.
The following businesses partnered with the police department for the project:
Taylor & Messick, Cooks Tire, Midtown Liquors, Mickey's Handyman Service, Burris Foods, American Finance, Harrington Florist, Aquaflow, Byler's, Atlantic Auto Brokers, Schiff Farms, Blue Hen Construction, Rudy's Diner, Start to Finish Collision, Mad Clay Homes, Subway, Pizza King, Hometown Drug's, Quality Inn, Melvins Funeral Home, Harrington Casino, Calloway Furniture, Shining Stars Academy, Stones Tavern, Moores Garage, Calvary Wesleyan Church, EZ Loans, Teague Stables, Connections, All Span, Delmarva Chiropractic, Lehigh Valley, Smitty's Garage, Clayton Farms, Happy Tails, Clutter Box, The Chair, and IG Burton.