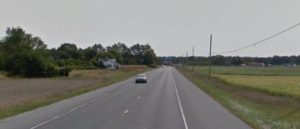 BRIDGEVILLE, DELAWARE (10/28/2016) An SUV driver was killed this morning in a crash with a DART bus west of Bridgeville, the Delaware State Police said.
The collision happened about 5:45 a.m. on Seashore Highway (Route 404) west of Cannon Road.
The bus driver and a number of passengers were taken to hospitals but police said they didn't think their injuries were life-threatening.
Police reported the road still closed at 8 a.m.
Bridgeville firefighters responded to the crash.