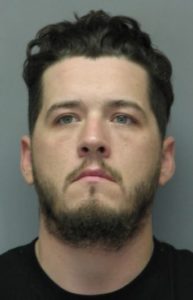 UPDATED STORY: Suspect in 3 TD Bank robberies arrested after chase
NEW CASTLE, DELAWARE (7/16/2016) Delaware State Police say they have identified a man who robbed a TD Bank branch Friday afternoon west of New Castle.
The robbery happened about 2:30 p.m. at 82 Christiana Road.
The robber handed a demand note to a teller, who turned over an undisclosed amount and he then fled. The teller wasn't hurt.
Police said tips from several sources helped them identify Donald M. West, 34, of Newark, as the man who robbed the bank.
He was described as white, 5-feet-9 and 190 pounds.
Police have warrants charging him with second-degree robbery.
State police said he also is wanted by New Castle County police in an unrelated case for unauthorized use of a motor vehicle after he stole a dark grey or black 2001 Toyota Corolla on Monday.
Anyone with information on West's location is asked to call the robbery unit at Troop 2 at 302-365-8566 or Detective J. Paul Doherty at 302-365-8438.