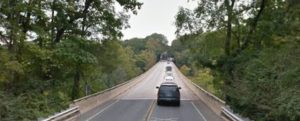 GREENVILLE, DELAWARE (7/8/2016) Two people were injured Thursday in a crash on the Tyler McConnell Bridge, authorities said.
The two-vehicle collision was reported at 6:22 p.m., with one driver trapped in the wreckage.
A 17-year-old girl who was driving one of the vehicles was evaluated at the scene and taken by ambulance to Nemours/A.I. DuPont Hospital for Children in Rockland, said Sgt. Abigail E. Haas of New Castle County paramedics. The girl was in stable condition, Haas said.
Talleyville firefighers extricated the other driver, a 45-year-old man, in less than 10 minutes, Haas said.
He was treated by paramedics for possible head and arm injuries, then flown to Christiana Hospital in Stanton by Delaware State Police helicopter. Haas said he was in serious but stable condition.
State police are investigating the crash.