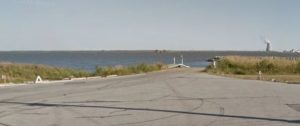 AUGUSTINE BEACH, DELAWARE (5/13/2016) A New Jersey man was fined $214 after his boat struck the Reedy Island Jetty near Augustine Beach and sank, Delaware Natural Resources Police said today.
The incident happened May 6, and Christopher H. Stock, 25, of Elberon, was rescued along with two passengers and a Great Dane dog by emergency crews after a 911 call. No injuries were reported.
Stock was cited for negligent operation of a vessel and no boating safety certificate.
The boat has not been recovered and police are still investigating the incident.
2 rescued after boat capsizes in Delaware Bay