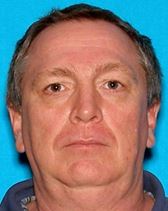 REHOBOTH BEACH, DELAWARE (4/7/2016) A suspect in a carjacking in the parking lot of Christiana Hospital in Stanton was taken into custody a day later when he was spotted in a different vehicle on Route 1 northwest of Rehoboth Beach, the Delaware State Police said Wednesday.
Jeffery C. Blauvelt, 56, of the 200 block of Central Avenue in the Brack Ex community near Elsmere, was wanted in connection with the carjacking that happened shortly before 7 a.m. Tuesday. Police said he had been a patient and left through the main entrance of the hospital, wearing pants and a fur coat, without being discharged.
The car, a 2004 Nissan Maxima, was taken as the 26-year-old woman driving it and a 25-year-old man who was a passenger were getting out. The 25-year-old attempted to stop the carjacking but was pushed away by Blauvelt, police said. No one was injured.
About 1 p.m. Wednesday, a trooper on patrol along Route 1 (Coastal Highway) near Route 24 saw Blauvelt pass him in a dark Chevrolet Tahoe. A traffic stop was conducted and Blauvelt was taken into custody.
Police said they charged Blauvelt with driving under the influence of drugs and he was admitted to a medical facility.
State police said they will formally charge him with carjacking and theft of a motor vehicle upon his release, and New Castle County police will charge him with reckless driving and offensive touching.
County police had issued a Gold Alert for Blauvelt early Wednesday after receiving a 911 call from his spouse reporting him missing. She reported he had arrived home about 4:30 a.m. attempting to locate documents, became frustrated and fled in a 2002 Chevrolet Tahoe, and police said he then called and made statements that caused a concern for his welfare.
Details on the county charges were not immediately available. State police did say the carjacking victim's car was recovered in Elsmere on Tuesday night and returned to her.