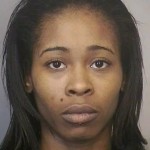 DOVER, DELAWARE (3/15/2016) A 37-year-old woman was arrested on charges of trying to rob an elderly man at an automated teller machine, Dover police reported Monday.
The crime happened at the Wells Fargo Bank, 100 N. DuPont Highway (U.S. 13) about 9:20 a.m. on Wednesday.
The 71-year-old man had just withdrawn money from the ATM when a woman, with her face covered, grabbed him by his arm and tried to take the cash, Master Cpl. Mark Hoffman said.
The victim struggled and the woman fled empty-handed.
Officers located Cloreese McCray, of Becky Lane in Dover, a short time later and took her into custody without incident.
She was charged with second-degree attempted robbery, second-degree assault of a victim over age 62 and wearing a disguise during commission of a felony. McCray was released on $4,000 secured bond.
3 sought in armed robbery at Dover hotel room