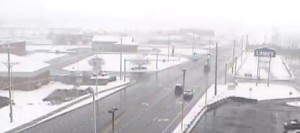 DELAWARE (3/4/2016) An overnight snowfall is delaying or closing some schools this morning.
Closed
Laurel School District (updated from delayed opening announced earlier)
1-hour delay
Seaford School District
Latest details on school closings and delays
The Laurel area had 3 inches of snow, the heaviest in the state, according to the Delaware Environmental Observing System. Hockessin had about half an inch, and west Dover had 2.1 inches.
The speed limit on Interstate 495 was lowered to 55 mph, the Delaware Department of Transportation said.
The snow is expected to end by early afternoon, possibly mixing with rain late this morning, according to the National Weather Service. There's a chance for rain or snow late Saturday and early Sunday, but with little snow accumulation.