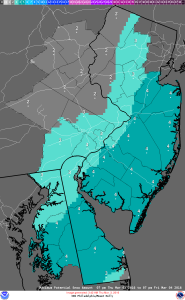 DELAWARE (3/3/2016) A storm arriving late tonight and tapering off early Friday afternoon will dump from 1 to 3 inches of snow on Delaware, the National Weather Service predicts.
A winter weather advisory is in effect from 10 tonight until 1 p.m. Friday.
The service says untreated roads, bridges and overpasses will be slick by the start of the Friday morning commute.
Winds gusting to 35 mph could cause limited visibility due to blowing snow.
Temperatures will be at or just below freezing overnight and climb to the mid- to upper 30s by Friday afternoon.
This morning, sunny skies will be followed by increasing clouds, with a high temperature close to 40 degrees.
Saturday and Sunday will be partly sunny with a high in the mid-40s. By Tuesday, high temperatures in the 60s will return.