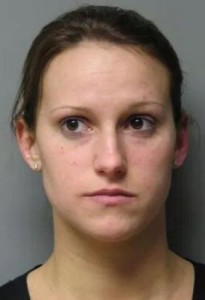 MILFORD, DELAWARE (2/17/2016) A 24-year-old Houston woman was arrested in connection with a domestic incident in which she climbed onto the roof of her ex-boyfriend's home, struck him and assaulted a Milford police officer, authorities said Tuesday.
Ashley J. Remington was charged Monday with second-degree assault with injury to a law enforcement officer, felony resisting arrest with force, third-degree assault, first-degree criminal trespass and criminal mischief under $1,500.
Milford police said the domestic incident happened the night of Feb. 6 in the 200 block of Marshall St.
Remington showed up at the 43-year-old man's home intoxicated after being told they were no longer in a relationship, Sgt. Dwight Young said, and climbed onto the roof. The man was able to talk her down and inside the home, Young said, but she then became irate and refused to leave.
Remington began hitting the man in the face and head, Young said.
When police arrived, she refused to obey an officer's commands, cursed the officer and broke her ex-boyfriend's belongings in the home, Young said.
"As the officer was attempting to take Remington into custody, Remington struck the officer in the torso. Remington continued to physically resist being taken into custody by the officer. During the struggle the officer received an injury to the hand. As another officer arrived Remington continued to physically resist briefly before being taken into custody," Young said.
"Once Remington was transported back to the Milford Police Department and placed in the holding cell, she became more irate. Remington rammed her head into the wall inside the holding cell," Young said, and attempted to do it several more times as an officer tried to restrain her.
She was taken to a nearby medical facility for treatment and evaluation, Young said.
Remington was arraigned and released after posting $7,500 secured bond.