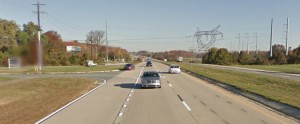 GLASGOW, DELAWARE (2/13/2016) A 38-year-old woman was trapped in her vehicle and seriously injured in a multi-vehicle collision in Glasgow on Friday afternoon, authorities said. An unoccupied school bus was one of the vehicles involved.
The crash happened about 2:45 p.m. on South College Avenue (Route 896) at the A Street intersection.
Firefighters freed the woman from the wreckage in about 10 minutes, said Sgt. Abigail E. Haas of New Castle County paramedics. She was treated for a possible head injury and scrapes before being taken by ambulance to Christiana Hospital in Stanton in serious but stable condition.
The crash is under investigation by Delaware State Police.
Christiana Fire Company and Aetna Hose, Hook & Ladder Company responded.