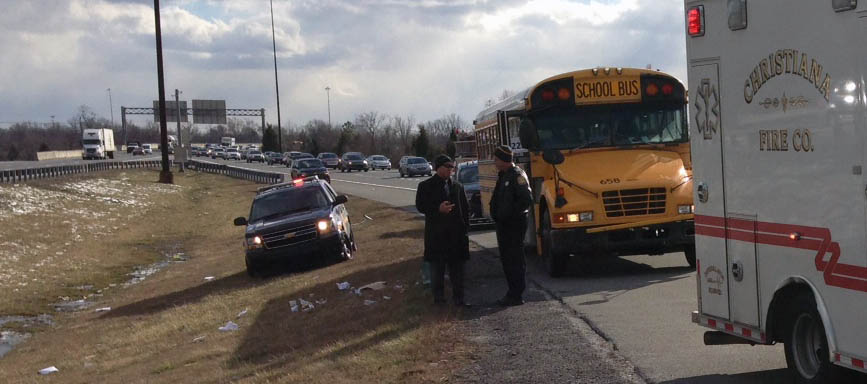 NEWPORT, DELAWARE (2/13/2016) Three students were arrested following a fight on a Christina School District bus along Interstate 95, the Delaware State Police said Friday.
The incident was reported at 2:24 p.m. Thursday as the bus carrying Christiana High School students was northbound near Newport.
Police released this account:
"A female student on the bus, later identified as Avionea Ellington, 17, of Wilmington, began throwing candy. A piece of the thrown candy struck another female student, who then became involved in a verbal altercation with Ellington.
"As Ellington and the second female argued, they were approached by two other students, later identified as Kevin Chapman, 17, and Tyuana Bultron, 16, both from Wilmington.
"As Bultron and Chapman arrived at the front of the bus where the verbal altercation was occurring, they were confronted by an 18-year-old male student who attempted to intercede. The male victim was then punched by Kevin Chapman. Chapman, Bultron, and Ellington then proceeded to physically assault the victim."
Police said the bus driver then stopped on the shoulder near Interstate 495 and called 911.
"As this was occurring, the victim was able to exit the bus where he was then sprayed in the face with a chemical substance by Tyuana Bultron," according to the police statement.
Officers from several police departments arrived at the scene and the 18-year-old victim was taken by ambulance Christiana Hospital in Stanton. Police said his injuries were not life-threatening.
Chapman, Bultron and Ellington were all charged with second-degree assault and each was released on $10,000 unsecured bail.
Police said they are still investigating and more arrests are expected.