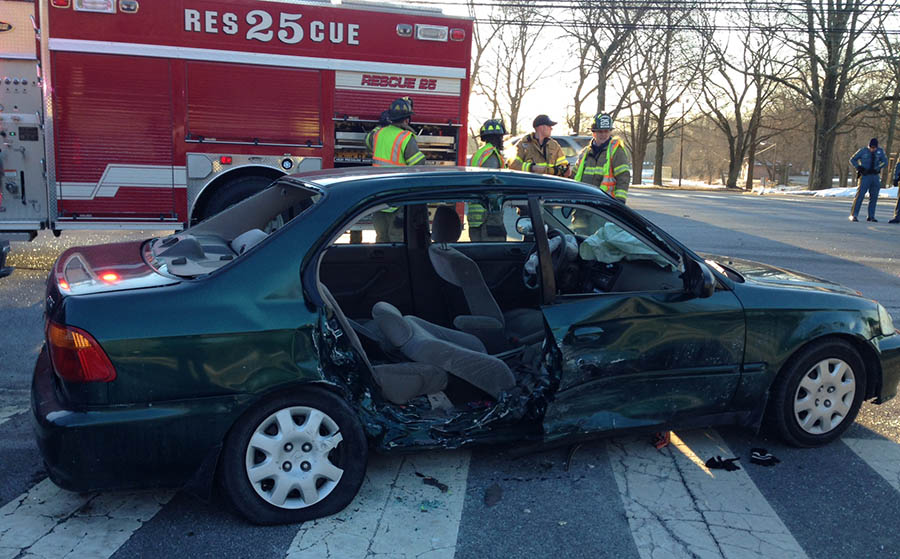 BRANDYWINE HUNDRED, DELAWARE (2/13/2016) Four teenagers were injured in a two-vehicle crash Friday morning, Delaware State Police said.
The accident happened shortly after 7 a.m. on Foulk Road at Foulkstone Plaza Drive. One teen was trapped in the wreckage and extricated by firefighters, according to reports from the scene.
Police said Shalonda Green, 17, of Claymont, was driving a 2000 Honda Civic northbound attempting a left turn when she drove into the path of a southbound 2010 BMW 328i.
The front bumper of the Honda struck the side of the BMW, which was in the left lane.
The driver of the BMW was identified as 16-year-old Adam Tulibacki of Wilmington.
Green and a 17-year-old boy who was a passenger in her car, as well as Tulibacki and a 14-year-old boy who was a passenger in the BMW, were all taken by ambulance to Nemours/A.I. duPont Hospital for Children in Rockland. Police said their injuries were not life-threatening.
Police said all had been wearing seat belts.
Green was cited by police for failure to yield.