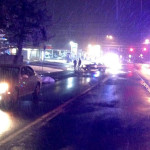 BRANDYWINE HUNDRED, DELAWARE (2/11/2016) The Delaware State Police this afternoon released the name of the man struck by a vehicle and killed early Wednesday while walking across Foulk Road.
Ramon R. Miranda, 76, of West Grove, Pennsylvania, was pronounced dead at the scene just south of Silverside Road.
Police said they are still investigating the pedestrian fatality.
Police release details in fatal Foulk Road pedestrian accident