UPDATED STORY: Gov. Markell ending driving ban at 10 a.m. Sunday; advisory remains
DELAWARE (1/23/2016) With coastal flooding at near-record levels and a blizzard's drifting snow closing roads and causing thousands of power outages across Delaware, DART is suspending bus and paratransit service on Sunday.
The blizzard that is expected to dump as much as 2 feet of snow continues, and Gov. Jack Markell this morning issued a ban on driving in Kent and New Castle counties for all but "essential personnel" or those granted waivers.
Major coastal flooding from the Atlantic Ocean and inland bays closed Route 1 between Dewey Beach and Bethany Beach, and also in Fenwick Island. The flooding forced the evacuation of residents in the Oak Orchard and Long Neck areas and stranded vehicles in numerous spots.
For those forced from their homes, a shelter was opened at Sussex Central High School near Georgetown.
By 7:20 p.m. the highest Delaware snow amount reported was 15.5 inches at Woodside in Kent County. West Dover received 13.3 inches. In New Castle County, 12.8 inches was reported at New Castle, 12.5 at Port Penn, and 12.2 at Greenville and Hockessin. In Sussex County, Laurel reported 7.4 inches, with smaller totals across the state.
More road flooding was reported at high tide this evening. State officials had predicted moderate property damage and significant beach erosion, state officials said.
The Delaware Emergency Management Agency urged people living in flood-prone areas to be prepared for rising water levels and to take action to protect lives and property through Sunday morning.
Flooding was at a near-record level of 9.2 feet at Lewes at the 8 a.m. high tide, just shy of the 9.22-foot record set in the historic March 1962 nor'easter, according to Sussex County government spokesman Chip Guy.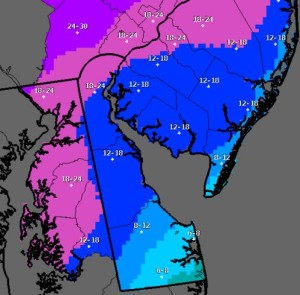 He said numerous dune breaches occurred along the Atlantic coast, forcing the closure of Route 1 south of Dewey Beach.
Low-lying communities around the inland bays are experiencing significant flooding, Guy said, and nearly 8,000 Delaware Electric Cooperative and Delmarva Power customers were without power throughout the county, largely due to downed trees and power lines.
Many of those without power earlier today had service restored, but about 1,900 Delmarva Power customers in Sussex remained out at 7:30 p.m. Hundreds more were still out in Kent and New Castle counties.
The Delaware Electric Cooperative reported about 200 members still out in Sussex and Kent counties.
Snow continued falling as well as sleet and freezing rain in some areas.
The National Weather Service said the blizzard may bring as much as 36 inches of snow in parts of eastern Pennsylvania and northwestern New Jersey.
Snow in Delaware is expected to taper off this evening.
In Bowers Beach  along the Delaware Bay in Kent County, about 2 feet of water covered Main Street at the west end of town at 8:15 a.m., a half hour before high tide. A water rescue was underway on North Flack Avenue and additional boats were being called into the area.
Other roads closed by flooding included New Road at the Canary Creek bridge at Lewes; the canal bridge on Savannah Road in Lewes; Pilottown Road at the Coast Guard station in Lewes; Prime Hook Road near Prime Hook; Broadkill Beach Road east of Route 1; and North East Front Street between Walnut Street and Rehoboth Boulevard in Milford, according to Delaware State Police and DelDOT.
Cedar Creek Bridge near Slaughter Beach is not opening for marine traffic but the road across it, Route 36, remains open, DelDOT said.
The governor's order of a "Level 2 Driving Restriction" prohibits driving by those other than operators of snow removal equipment (public and private) and those providing public utility and health care services as well as those providing food and fuel deliveries. In addition, waivers may be granted by the Delaware Emergency Management Agency.
"This storm appears to be as serious as predicted and, with so much snow accumulating on our roads, conditions are becoming dangerous for any more traffic than absolutely necessary," said Markell. "The Level 2 Driving Restriction in New Castle and Kent Counties is required to keep people safe and off the roads, while allowing our DelDOT and emergency responder personnel to operate most effectively."
The governor's state of emergency, issued Friday evening, remains in effect as well as a "Level 1 driving restriction" for Sussex County that urges people to stay off the roads. The state of emergency declaration allowed the governor to call out the Delaware National Guard as well as other state agencies to deal with the storm.
A wind gust of 64 mph was measured at Sussex County Airport near Georgetown just after 5 a.m., and gusts of  57 mph were measured at Indian River Inlet and on the boardwalk at Rehoboth Beach before dawn. A 69 mph gust was measured at the Brandywine Shoal light in the lower Delaware Bay at 6 a.m.
The Delaware Department of Transportation says crews were out all night clearing roads across the state, hindered by the blowing, drifting snow.
DelDOT trucks are plowing and laying salt on major roads, bridges and toll plazas. Residents can track the progress of DelDOT plows by watching the snowplow tracker online or on the DelDOT app on a smart phone.
A blizzard warning from the National Weather Service continues until 6 a.m. Sunday for Kent and New Castle counties. A winter storm warning continues for Sussex County.
A coastal flood warning is in effect for Kent and Sussex counties until noon Sunday, with widespread major flooding expected, especially in Sussex, during three high-tide cycles.
All DART and SEPTA service in Delaware is suspended today.
On Friday night, flooding closed South Bowers Road east of Brockam Bridge Road in Kent County, DelDOT reported. Several vehicles were reported stranded in water in the area this morning.
The speed limit on Interstate 495 was reduced to 45 mph.
A few roads in the Dagsboro and Millsboro areas are impassable, and abandoned vehicles this morning made it difficult for plows to open an area of Gravel Hill Road south of Millsboro, according to the Delaware Emergency Management Agency.
At 6 a.m., Delmarva Power reported more than 5,000 customers in Sussex County were without service. A few dozen were out in Kent and Sussex counties, as well as thousands more in nearby Maryland. The Delaware Electric Cooperative reported more than 900 members were without service in Kent and Sussex.