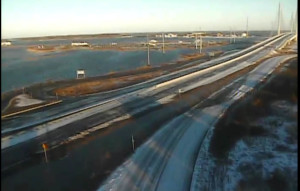 DELAWARE (1/24/2016) Many schools have announced they will be closed Monday as Delaware continues to recover from a major blizzard and coastal flooding.
Appoquinimink, Brandywine, Christina, Colonial, Red Clay and Smyrna districts as well as Providence Creek Academy, Thomas Edison Charter School and  Charter School of Wilmington announced Monday closures for schools and offices.
Earlier today, Gov. Jack Markell lifted "Level 2 driving restrictions," which banned driving in Kent and New Castle counties for all but "essential personnel" or those granted waivers.
A "Level 1 driving restriction" continues statewide, urging people not to drive unless necessary.
Officials said snow and ice remain on many roads across the state, with as much as 13 inches of snow on some minor roads.
The highest Delaware snow amount reported was 17.2 inches at Woodside in Kent County. West Dover received 14.2 inches. In New Castle County, 13.1 inches was reported at New Castle, 12.7 at Port Penn, and 12.2 at Greenville and Hockessin. In Sussex County, Laurel reported 8.8 inches and Ellendale 7.4, with smaller totals across the state.
Delaware State Police responded to 150 property damage collisions during the storm as of 8 p.m. Saturday, 16 personal injury collisions, 260 disabled vehicles and 70 traffic hazards.
DART has suspended all bus and paratransit service statewide today, and SEPTA service to Wilmington and Newark also is suspended.
Flooding closed Route 1 between Dewey Beach and Bethany Beach, and in Fenwick Island, as well as dozens of other coastal roads.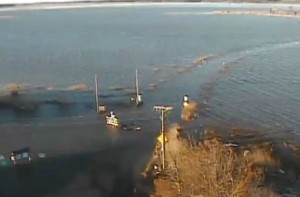 While more than 8,000 electric customers lost service at the height of the blizzard Saturday, only a few hundred remained without power at 6 a.m. today. Most of those are in Sussex County.
"Our DelDOT crews have done outstanding work today in the midst of challenging conditions," Markell said late Saturday. "I'm grateful for all that they have achieved today, as well as for the tremendous efforts of emergency responders, health officials, and the more than 260 National Guard members on duty for the storm. I also thank those in Sussex County who have opened the shelter at Sussex Central."
More than 50 people were forced to evacuate their homes after near-record coastal flooding in Sussex County, Markell said, and the flooding is expected to continue this morning.
Indian River Volunteer Fire Company and the National Guard helped evacuate homes and dealt with flooded vehicles and propane leaks in the Oak Orchard,  Rehoboth Shores, Pot Nets Seaside, White House Beach, Mariner's Cove, Rock Cove and Riverdale communities.
Sussex County's designated shelter during the storm, Sussex Central High School, was closing at 11 p.m. Saturday. Volunteers with the American Red Cross of the Delmarva Peninsula were working with the one person who remained at the shelter to find temporary housing following relocation from the Oak Orchard-Riverdale community earlier in the day, said county government spokesman Chip Guy.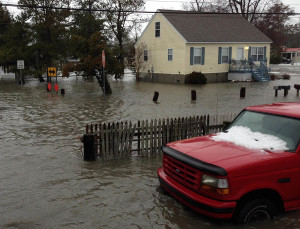 While the snowstorm has moved off, a coastal flood warning remains in effect for Kent and Sussex counties until noon today, the National Weather Service said. A coastal flood advisory is in effect for New Castle County from 9 a.m. until 1 p.m.
"Our plows will continue to work around the clock tomorrow to make as much progress as possible in advance of the work week and our roads will be safer and clearer if as many people as possible avoid driving on Sunday," the governor said.
According to state law, a "Level 1 Driving Warning" means that any person operating a motor vehicle on Delaware roadways must exercise extra caution. All nonessential employees, public and private, are encouraged not to operate a motor vehicle unless there is a significant safety, health, or business reason to do so.
The sky will be sunny today with a high temperature about 32 degrees. Tonight's low will be around 17. There's a slight chance for rain and snow on Tuesday, when the temperature is expected to reach the upper 40s.