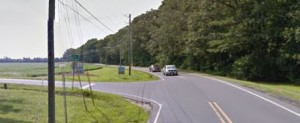 UPDATED STORY: Police release name of 31-year-old woman killed in crash
MILLSBORO, DELAWARE (1/19/2016) A 31-year-old woman was killed this morning in a crash east of Millsboro, the Delaware State Police said. It happened in the same stretch where a 65-year-old man was killed in a head-on accident a week ago.
The latest crash happened about 8:50 a.m. on Mt. Joy Road just west of Cordrey Road.
The Millsboro woman was eastbound in a 2001 Buick Century approaching a 2008 Chevrolet Silverado pickup truck that was westbound.
For unknown reasons the pickup left the north side of the road, then spun around as it re-entered the road and crossed the double solid yellow line into the eastbound lane, striking the left side of the Buick, police said. The truck then continued off the south side of the road and overturned multiple times, coming to rest on its left side.
The Buick was forced off the south side of the road, where it came to a stop.  The driver, whose name has not been released, was taken by ambulance to Beebe Healthcare's hospital in Lewes, where she was pronounced dead. Police said she had been wearing a seat belt.
The driver of the pickup, Robert M. Weaver, 49, of Millsboro, was taken by ambulance to Beebe, treated and released, police said. He had been wearing a seat belt.
Police are still investigating the crash and no charges have been filed. They asked that anyone who witnessed the crash contact Cpl. N. DeMalto at 302-703-3267.
The road was closed in the area about 3 hours as police investigated and the wreckage was cleared.
65-year-old man killed in head-on SUV crash