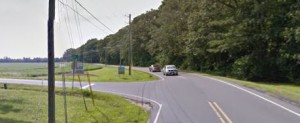 MILLSBORO, DELAWARE (1/20/2016) Delaware State police today released the name of a 31-year-old woman killed in a crash with another vehicle east of Millsboro.
The crash on Mount Joy Road happened in the same area where a man was killed in a head-on accident a week earlier.
The latest victim was identified as Shena L. Coverdale, of Millsboro.
She was eastbound in a 2001 Buick Century when an oncoming 2008 Chevrolet Silverado pickup truck crossed the solid double yellow line and struck her car, pushing it off the road.
The driver of the pickup, Robert M. Weaver, 49, of Millsboro, was treated at a hospital and released.
Police are still investigating and no charges have been filed. Any witnesses are asked to call Cpl. N. DeMalto at 302-703-3267.