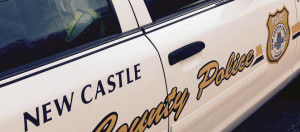 MINQUADALE, DELAWARE (1/12/2016) New Castle County Police Chief Col. Elmer M. Setting said today that changes the agency made in tactics three years ago have helped cut crime by 22 percent over the period.
The Targeted Analytic Policing System started in 2013 seeks to predict crime and get officers in the correct locations before the offenses occur, Setting said
The program includes a focus on what he terms "quality of life" calls, those most frequently reported by residents, including disorderly subjects, speeding cars, loud radios, suspicious persons or vehicles, fights, people loitering on street corners and drug dealing.
If these smaller issues are left unchecked, he reasoned, they would grow into the more serious crimes.
In the results for TAPS unveiled this morning by Setting, homicides over the three year period fell 13.2 percent, shootings dropped 29.4 percent and shots fired complaints dropped 28.1 percent.
The department's Property Crime Initiative also helped drive down burglaries by 32.9 percent, thefts by 23.9 percent and vehicle thefts by 11.2 percent, according to Setting.
Community comments and the department's on-line survey have shown that property crime continued to be a primary concern for residents, he said. Data from TAPS showed that property-related crimes had not been impacted as greatly as other crimes, leading to new, more-aggressive initiatives in the department.
One of these included creation of "Property Crime Specialists" on each patrol squad. Those specialists received more training in complex investigative methods and began to work closely with detectives in the Criminal Investigation Unit, Setting said. Selected "Evidence Specialists" on patrol squads also received additional advanced training in the collection and preservation of evidence.
Throughout the implementation of TAPS, police have become increasingly aware that the crimes that they are trying to fight are fueled by the persistent and deadly heroin epidemic, he said.
"As we continue using TAPS and re-enforcing its success, we constantly see the need to directly attack the heroin problem," Setting said.
"Our persistence in that attack, however, will not always be the type that results in arrests," he said. "We need to educate our youth about the drug before they can be pressured to try it – or get addicted — and offer treatment to those already in the deadly downward spiral of heroin addiction."