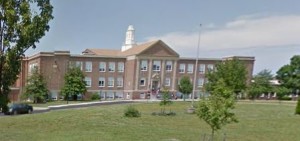 UPDATED STORY: 2 students face charges
DOVER, DELAWARE (1/12/2016) Two students are in custody following the firing of a gun at Central Middle School this afternoon, Dover police said.
The gunshot incident happened about 12:15 p.m.
The school was placed on lockdown for about an hour while officers and school authorities searched the building.
The incident is not believed to be related to a bomb threat that was phoned into the school earlier today, police and school officials said.
"Early indications are that one of the two students brought the firearm to school and possibly gave it to another student. The student in possession of the firearm took it into a restroom and fired it one time. It is unknown if the gun was fired intentionally or not," police said in a news release.
No injuries were reported.
Police said the firearm was recovered.
In a statement on the Capital School District website, officials said students would be dismissed at the regular time but all after-school and evening activities are canceled. Police would remain at the school through the afternoon, the statement said.