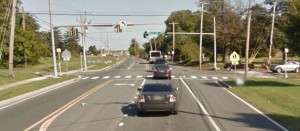 MIDDLETOWN, DELAWARE (1/6/2016) A 45-year-old man was injured when he was struck by a box truck in Middletown on Tuesday, authorities said.
The man was walking along East Main Street near Silver Lake Road about 9:24 a.m. when the truck made contact with his arm.
He was treated for a possible fractured arm, neck pain and back pain, said Lt. Michael A. McColley of New Castle County paramedics.
He then was taken by Volunteer Hose Company ambulance to Christiana Hospital in Stanton. McColley said the man was in stable condition.
Middletown police are investigating the accident.
Police seek Volvo in fatal hit-run crash near Christiana Mall