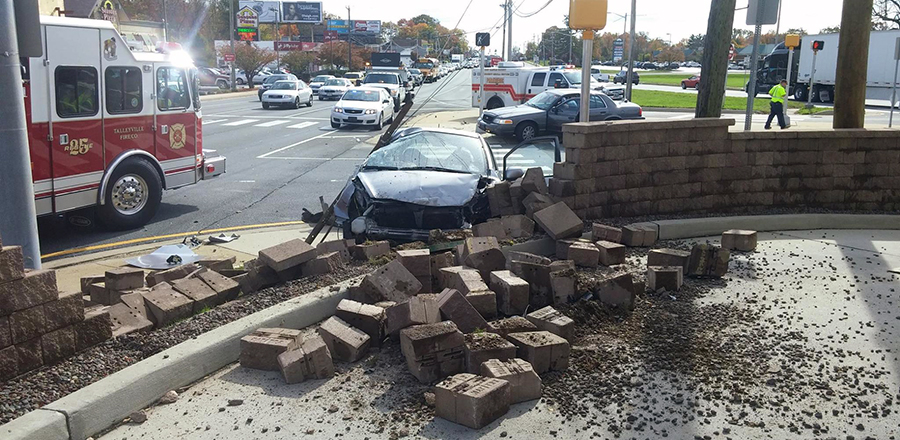 TALLEYVILLE, DELAWARE (10/31/2015) A Newark man was charged with driving under the influence of drugs after his car crashed into a brick wall at a Taco Bell restaurant on Concord Pike (U.S. 202), the Delaware State Police said, injuring two people.
The accident happened about 1 p.m. Thursday at 3902 Concord Pike.
Police said Lonney M. Stewart, 48, was driving a 2007 Honda Fit northbound when it drifted off the left side, struck a raised concrete island and two traffic signs, crossed the Mount Lebanon Road crossover, hit a curb and the brick wall adjacent to the drive-thru lane at Taco Bell.
Debris from the wall struck a 2003 GMC Yukon in the parking lot driven by Jerilyn Kuchma, 50, of Wilmington, police said. Kuchma was not injured.
The Mount Lebanon Road crossover on Concord Pike and the drive-thru lane of the Taco Bell were closed after the crash but the restaurant remained open.
Stewart was taken by ambulance to Christiana Hospital for treatment of injuries that police said were not life-threatening. A 31-year-old woman who was a passenger in his car also was taken to the hospital for treatment of injuries that were not life-threatening.
In addition to DUI, Stewart was charged with careless driving, failure to remain within a lane of travel, driving without a valic license and no proof of insurance.
Woman seriously injured in Route 1 crash near Christiana Mall