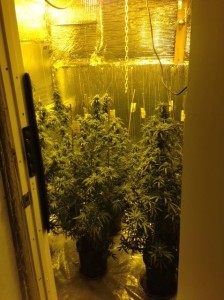 LITTLE HEAVEN, DELAWARE (10/30/2015) A 54-year-old man was arrested Thursday after Delaware State Police seized a dozen marijuana plants from his home in the Barker's Landing community in Little Heaven, authorities said today.
Police said Bruce E. Hufnal Jr., of the first block of Covenant Lane, had a sophisticated indoor marijuana growing operation in two rooms of the home, with lights and ventilation systems.
The plants seized had a combined weight of about 7 pounds, police said, and they also found 1.4 pounds of packaged marijuana.
Hufnal was charged with manufacturing a controlled substance (marijuana), possession of a controlled substance in a Tier 3 quantity, and possession of drug paraphernalia. He was released on $15,200 unsecured bond.
Dover man, 22, faces new drug charges, held without bail