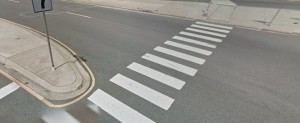 DOVER, DELAWARE (10/30/2015) In the wake of several recent pedestrian accidents, Delaware State Police are offering safety tips for those walking near roadways:
• Cross only at crosswalks or intersections with signals or traffic signs. Look left, right, and left again. Only start to cross when it's clear.
• Do not risk crossing outside of a crosswalk or intersection just because it's more convenient, especially on high speed roadways. Cars cannot stop in time for you.
• Use sidewalks. If there is no sidewalk, walk facing traffic and as far off the edge of the road as possible.
• Do not step into a crosswalk if it will create a hazard to motorists. When it is clear to cross, continue to watch for traffic while crossing the street until you have safely reached the other side.
• Carry a flashlight or other reflective item when walking at night. It's the law.
• Teach children not to run into the street after balls or other toys, and don't allow them to cross alone until you've practiced the basics with them.
• Do not walk under the influence of alcohol or drugs. Impaired walking is like impaired driving; it is illegal and can be deadly.
• If your vehicle breaks down on an interstate or busy roadway, don't leave your vehicle. Instead call #77 or 911 for assistance. Motorists can also call #77 to report a disabled vehicle they see on the roadways.
• If you are driving, be on the lookout for pedestrians near the roadway.
Man, 73, struck by car in Claymont, cited by troopers
Police: Man, 32, struck on Old Baltimore Pike was intoxicated
Pedestrian struck by car on U.S. 13 in Dover dies
Man, 36, killed in hit-run pedestrian accident on U.S. 13
Driver charged with DUI after fatal U.S. 13 pedestrian crash