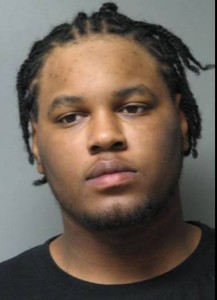 CANTERBURY, DELAWARE (10/30/2015) A Dover man charged with racketeering last month and out on bail was arrested this week on new drug and gun charges after he was pulled over for failing to stop at a stop sign, Delaware State Police said Thursday.
The latest arrest of Kevin A. McDonald Jr., 22, came about 9 p.m. Monday as he was driving a grey Dodge Avenger eastbound on Barney Jenkins Road north of Canterbury, police said and went through the stop sign at U.S. 13.
Police said a K-9 sensed narcotics in the Dodge Avenger, and troopers then found a loaded .40 caliber handgun under the driver's seat and more than $500 in suspected drug proceeds as well as  3.5 grams of crack cocaine on McDonald.
He was charged with possession with intent to deliver a controlled substance, possession of a firearm during commission of a felony, two counts of possession of a firearm/ammunition by a prohibited defendant of an alleged felony, carrying a concealed deadly weapon, possession of drug paraphernalia, failure to stop at a stop sign and failure to signal.
Bail on the new charges was set at $91,002 cash only, but bail on the earlier charges was revoked and he was being held without bail at Vaughn Correctional Center near Smyrna.
McDonald's arrest on Sept. 9 was part of a six-month investigation that led to the arrest of 13 suspects in what police called "Operation Spiritus."
13 arrested, 3 sought in Kent drug ring crackdown