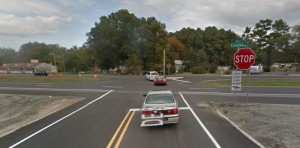 MILTON, DELAWARE (9/21/2015) A Delaware State Police trooper rescued an unconscious driver from a truck that caught fire after crashing into a tree along Route 1 north of Milton early Sunday, authorities said. The driver later was charged with DUI.
The incident happened about 5 a.m. at the Route 5 (Union Street Extended) intersection, just south of Waples Pond.
Police said Michael B. Fitzpatrick, 25, of Cape May Court House, New Jersey, was northbound on Route 5 in a 2007 Ford F-150 pickup truck when it crossed all lanes of Route 1 and struck two logs placed as barriers, a decorative rock and then a large tree before coming to a stop on the Brumbley's Family Park RV campground property.
The truck and the tree caught fire, and there was heat damage to an occupied home, police said.
"Within five minutes of the 911 call, a trooper arrived at the scene and observed the driver still inside the vehicle unconscious and laying across the front seat. Due to the doors being locked, the trooper broke out the driver's side window with a divisionally issued axe and upon entering, was able to wake the driver and pull him from the burning truck," police said in a news release.
Fitzpatrick was taken by ambulance to Bayhealth Milford Memorial Hospital and treated for injuries police said were not life-threatening. He was charged with driving under the influence of alcohol.
Milton firefighters extinguished the blaze.
Police said none of the occupants of the home were injured and there was no structural damage.

5 hurt in U.S. 13 crash near New Castle