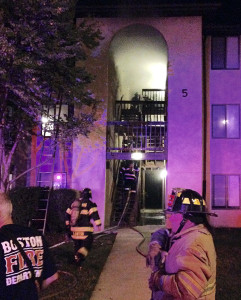 NEW CASTLE, DELAWARE (9/18/2015) Two people were injured, one seriously, when fire that started in a second-floor kitchen heavily damaged an apartment building west of New Castle early today, authorities said.
Christiana firefighters were called out to the Appleby Apartments in the 500 block of Bedford Lane, off Wilton Boulevard, just after 2 a.m. Other fire companies also responded to assist.
The fire extended to the third floor, and an occupant of the second-floor unit where it began jumped from the building before firefighters arrived. He was not injured.
Deputy Fire Chief William Anderson Jr. rescued an unconscious man found in a third-floor apartment.
The 68-year-old man was treated on the scene for smoke inhalation by New Castle County paramedics and taken by Aetna Hose, Hook & Ladder Company ambulance to Christiana Hospital. He was in serious condition, said Sgt. Michael McColley, paramedics spokesman.
A 59-year-old woman who lived below the fire said she was not feeling well and was treated on the scene for a possible medical issue. She then was taken by ambulance to Christiana Hospital for further evaluation, McColley said, and was in stable condition.
Other residents of the 12-unit building were left standing outside in their night clothes. Authorities did not have an exact number of those displaced.
The fire started on top of a stove where cooking was left unattended, said Michael Chionchio, assistant state fire marshal.  The cause was ruled accidental.
He said damage was estimated at $150,000.
The Delaware state Fire Marshal's Office is investigating the blaze.
3 hurt in Bear town house fire; $500,000 damage
$75,000 fire damage at Swell Tiki Bar near Rehoboth Beach