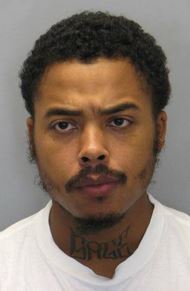 BEAR, DELAWARE (9/12/2015) A 29-year-old Pennsylvania man has been returned to Delaware to face charges in two bank robberies at the same Artisans' Bank branch in Bear, Delaware State Police said tonight.
Marece M. Scott, of Chester, was taken into custody by U.S. marshals in Atlanta, Georgia, on Aug. 28 and extradited to Delaware on Friday.
He was charged with six counts of first-degree robbery, two counts of wearing a disguise during commission of a felony and conspiracy in connection with armed robberies at 1124 Pulaski Highway (U.S. 40) on Oct. 25, 2012, and Jan. 18, 2013.
Scott was being held at Young Correctional Institution in Wilmington in lieu of $374,000 cash bond.
Police seek tips after man robs 3 banks
Suspect identified in 2 Artisans' Bank robberies in Bear