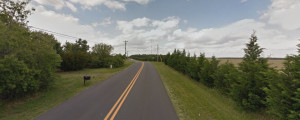 BRIDGEVILLE, DELAWARE (9/12/2015) An infant was killed and her sister and mother were injured when a car struck a utility pole and overturned east of Bridgeville, the Delaware State Police reported.
The accident happened about 12:45 p.m. Friday on Oak Road about a half mile south of Rifle Range Road.
For unknown reasons, police said, the southbound 2000 Toyota Celica went off the west edge of the road, struck a ditch and then the pole.
As the vehicle overturned, Britney L. Velasquez-Ramos, 3-month-old daughter of the driver, was ejected from a car seat and landed in some grass west of the roadway. Police said she was not properly restrained in the seat and the seat was not properly attached to the car.
The girl was taken by ambulance to Nanticoke Memorial Hospital in Seaford, where she was pronounced dead.
Her sister, Amy M. Velasquez-Ramos,  1½, was in a car seat that was not properly secured to the vehicle, police said, but remained inside the car. She was taken by state police helicopter to Nemours/A.I. DuPont Hospital for Children in Rockland where she was admitted for undetermined injuries.
Their mother, Liliana Ramos-Ramirez, 22, of Bridgeville, was not properly restrained but remained inside the car, police said. She was taken by ambulance to  Nanticoke, where she was treated and released.
She was charged with driving without a valid license, operation of a vehicle causing death, not having a child restrained and inattentive driving. She was released on $1,000 bond.
Oak Road was closed in the area about 3½ hours as police investigated.
Motorcyclist killed, wife injured in crash near Broadkill Beach