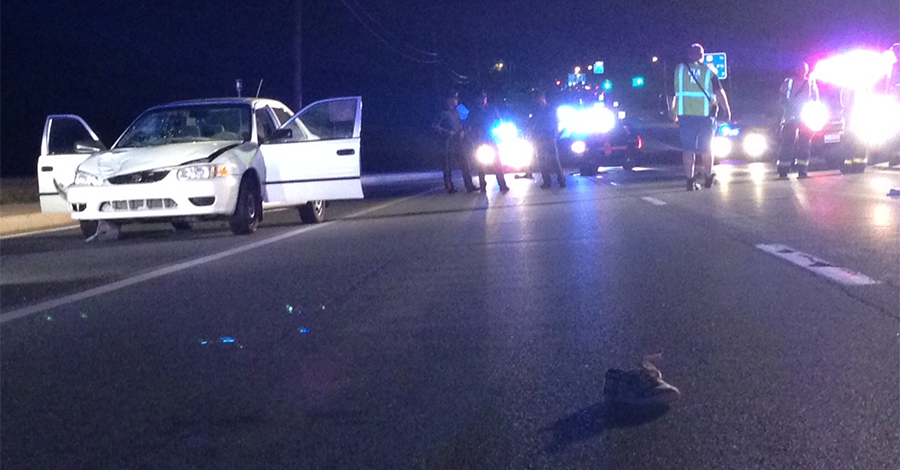 NEW CASTLE, DELAWARE (9/10/2015) A woman who was struck by a car near New Castle late Wednesday night died later at Christiana Hospital, and a man was seriously injured, Delaware State Police reported this morning.
The accident happened about 11:30 p.m. in the 700 block of E. Basin Road (Route 141) near Notre Dame Avenue and William Penn High School.
Melissa Livingstone, 36, of Delaware City, was identified as the woman killed.
Robert Spencer, 37, also of Delaware City, was admitted to Christiana with serious injuries that police said were not life-threatening.
They were westbound, not in a crosswalk, when they stepped into the path of a 2001 Toyota Corolla in the southbound lanes. The driver, Archie Thornton, 51, of New Castle, was wearing a seat belt and was not injured, police said.
Livingstone was thrown into the windshield and landed in the left-hand lane of southbound Route 141. Spencer was knocked down in the roadway.
Thornton stopped his car at the scene.
New Castle County paramedics treated the two pedestrians before they were taken to the hospital.
Sgt. Michael McColley, paramedics spokesman, said Livingstone was in cardiac arrest, with CPR begun on the scene. She was taken by Minquadale Fire Company ambulance to the hospital.
He said Spencer suffered lower extremity and head injuries and was in critical condition when he was taken to the hospital by Wilmington Manor Fire Company ambulance.
Police said alcohol use on the part of Thornton and Spencer do not appear to be factors in the accident, but alcohol use on the part of Livingstone is unknown.
The southbound lanes of Route 141 were closed about two hours as the crash was investigated.
Pedestrian, 78, killed on U.S. 13 near New Castle
Pedestrian struck, killed by car on U.S. 40 in Bear