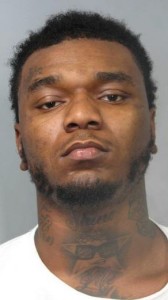 DOVER, DELAWARE (9/9/2015) A 21-year-old man was arrested on burglary charges early today after a Jaguar observed at an earlier theft scene crashed at Forrest Avenue and Fairway Lakes Drive, Dover police said.
The burglary happened about 1 a.m. in the 100 block of Willis Road.
Residents told officers someone kicked in the door between midnight and 12:32 a.m., then removed a sound bar and cash before kicking in a storage closet door and removing a laptop computer and PlayStation 3 game console.
One of the victims reported seeing a dark Jaguar in the parking lot near her apartment, which she termed suspicious.
When the crash happened about 45 minutes later, involving a dark green Jaguar, an officer spotted a man later identified as 21-year-old Michael Walker removing a shoe box from the vehicle, police said.
When Walker saw the officer, he fled on foot but was captured a short time later, police said.
Officers discovered the stolen PlayStation 3 inside of the shoe box and the sound bar in the vehicle, police said, but did not find the stolen laptop.
Walker, of the 1600 block of N. Taylor Drive in Dover, was charged with second-degree burglary, theft under $1,500, criminal mischief and resisting arrest.
Walker also was wanted by Delaware State University police on a robbery charge and on several warrants for violation of probation and failure to appear.
He was being held at Vaughn Correctional Center near Smyrna in lieu of $11,500 cash bond.