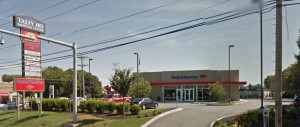 BRANDYWINE HUNDRED, DELAWARE (9/9/2015) Two masked men, one armed with a handgun, robbed a Bank of America branch on Tuesday, the Delaware State Police said today.
The robbery happened about 11:45 a.m. at 5215 Concord Pike (U.S. 202), at the Naamans Road intersection.
The robbers ordered two bank customers and several employees to the floor and demanded cash from two tellers. An undisclosed amount was turned over and the men then fled.
No one was hurt, police said.
One robber was described as white, 30-35 years old, 6-feet-1 and about 250 pounds. He was wearing dark shorts, a dark long-sleeved shirt and white sneakers.
The other was of unknown race, 25-35 years old, about 5-feet-7  and was wearing jeans and a dark long-sleeved shirt.
Anyone with information is asked to contact investigators at 302-365-8566.
Police seek tips after man robs 3 banks
Valero Shore Stop robbed on Old Baltimore Pike
Valero gas station robbed on U.S. 13 at Tybouts Corner