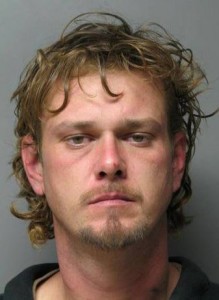 DOVER, DELAWARE (9/7/2015) A 34-year-old man was arrested after shots were fired from a semi-automatic rifle during a domestic argument at his home east of Dover in which he kicked and punched his wife, Delaware State Police said today.
The incident happened about 4:40 p.m. Sunday in the 2000 block of Kitts Hummock Road.
Police received a 911 call saying a man was armed with a gun and was shooting rounds and threatening harm to his wife and child.
When the call was made, police said, the woman and her young daughter already had run from their home to a neighbor's house.
Police said when troopers arrived, John W. Kemp was armed with a rifle and walking down Kitts Hummock Road, than ran back toward his house as he fired two rounds into the air.
Troopers as well as a Dover police K-9 unit and state police helicopter converged on the area, closing off Kitts Hummock Road.
About 5:30 p.m., Kemp was seen near the rear of his home in some thick vegetation. When troopers attempted to negotiate, police said, Kemp would not obey their orders to surrender.
The troopers continued to negotiate and moved in, with Kemp eventually dropping his gun, police said.
When he would not comply with orders to lie on the ground to be handcuffed, police said, troopers used a stun gun so he could be taken into custody.
Police said that before troopers arrived, Kemp had threatened to kill his 31-year-old wife and their 7-year-old daughter, then fired off several rounds from an MK 99 semi-automatic rifle.
The gun contained a fully loaded magazine and Kemp had another loaded magazine in his pocket, police said.
Kemp was evaluated and treated on the scene by emergency medical services, then charged with two counts of possession of a firearm and ammunition by a person prohibited, possession of a firearm during commission of a felony, two counts of aggravated menacing, resisting arrest two counts of terroristic threatening, endangering the welfare of a child and offensive touching.
He was being held at Vaughn Correctional Center near Smyrna in lieu of $44,250 secured bond.
Man, 20, charged after drugs, assault rifle seized near Newark