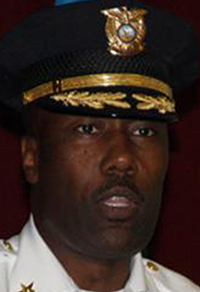 WILMINGTON, DELAWARE (9/2/2015) Police Chief Bobby Cummings says the arrest rate for homicides has increased since creation of a special police unit focusing on the crimes last year.
Cummings announced Tuesday the police force has made arrests in seven of this year's 19 homicides, a 37 percent clearance rate, compared with 12 percent before creation of the homicide unit.
He also said there has been a 33 percent increase in felony arrests involving a firearm compared to 2014.
"Through aggressive policing strategies and building strong partnerships with the community and other law enforcement agencies, the department is solving more homicides and arresting violent offenders," said Cummings. "By working closely together, the community and police are standing up against senseless acts of gun violence. Maintaining this collaborative effort is important, as we look to continue cracking down on violent crime in the city of Wilmington."
He said the homicide unit in conjunction with other community-based public safety initiatives created under direction of Mayor Dennis Williams – including the Police Citizen's Advisory Council, Mayor's Ministerial Council and Crime Reward Fund – have contributed to the arrest rate increase.
The department's involvement with the Violence Reduction Network, which provided the department with access to experienced federal government officials and resources, also was cited. As one of five cities in the program, officers were trained on homicide protocol, how to execute effective crime-solving strategies and case management.
"Public safety remains a pillar of my administration, as protecting citizens is the most important service a government provides," said Mayor Williams. "While we are still working to tackle violent crime, these numbers show that if the police and community work together we can make a difference."
In addition to homicide arrests, the city police department has made 600 adult felony arrests and 125 juvenile felony arrests. The department also made 215 arrests involving firearms compared to the 161 arrests made at this time last year, a 33 percent increase.
Wilmington murder suspect arrested
Homicide sets record in Wilmington