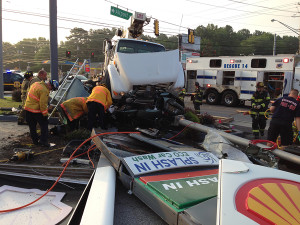 NEW CASTLE, DELAWARE (7/28/2015) A 29-year-old Smyrna woman whose car was crushed by a truck in a crash on Route 273 west of New Castle this morning has died of her injuries, Delaware State Police said this afternoon.
The collision involving a crane truck and a car at Airport Road happened about 6:50 a.m. and closed westbound Route 273 (Christiana Road) until 10:30 a.m.
Th woman killed was identified as Joann M. Hess.
Police said Hess was driving a 2006 Nissan Sentra and attempting a left turn from eastbound Christina Road (Route 273) onto Airport Road when she drove into the path of a 2004 Sterling truck that was westbound on Route 273.
The truck struck the right side of the Nissan, pushing it into a pedestrian sign and the parking lot of a Shell gas station, knocking down the station's sign and a street light pole.
Rescue crews from Christiana and other fire companies took about an hour to extricate her from the wreckage, said Sgt. Michael McColley of New Castle County paramedics.
He said paramedics initiated care but access was limited until she was removed from the car, and she then was found to be in cardiac arrest.
"Paramedics performed advanced life-saving care as the patient was transported to Christiana Hospital with Christiana Fire Company ambulance. She had return of pulses and was admitted to Christiana Hospital in very critical condition," McColley said.
Police initially reported this morning that Hess had died but then updated their report, saying she had been admitted to the hospital, then this afternoon announced she had been pronounced dead at 10:19 a.m.
The truck driver was identified as John C. Rowell III, 26, of Wilmington.
Police said he was wearing a seat belt and was not injured.
Neither alcohol nor drugs appear to be a factor in the crash, police said, and while their investigation is continuing no charges are expected.
Airport Road traffic was being diverted at Bellamy Drive until the wreckage was cleared.
The accident happened opposite Community Plaza.
Woman flown to hospital after Kent crash
Millsboro man killed in crash near Georgetown
Driver dies after Route 9 crash
Man killed in I-495 rollover crash identified