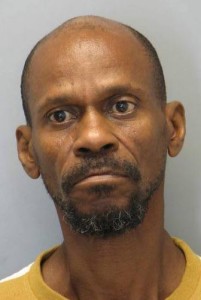 PRICES CORNER, DELAWARE (7/29/2015) Delaware State Police have arrested a 53-year-old Wilmington man  in connection with a shooting during a robbery at a Shell gas station in Prices Corner last week.
Raymond Colson Jr. of Wilmington was arrested after investigators received tips from the public, police said.
The shooting happened Friday at 2501 Newport Gap Pike. A 47-year-old clerk was shot in the abdomen and admitted to Christiana Hospital. Police said his wounds were not life-threatening.
Colson was charged with first-degree attempted murder, first-degree robbery, possession of a deadly weapon during commission of a felony, carrying a concealed deadly weapon and wearing a disguise during commission of a felony.
He was taken into custody without incident Tuesday in the area of 2nd and North Franklin streets in Wilmington, police said.
Colson was being held at Young Correctional Institution in in Wilmington in lieu of $500,000 cash bail.
Photos released in shooting of gas station clerk