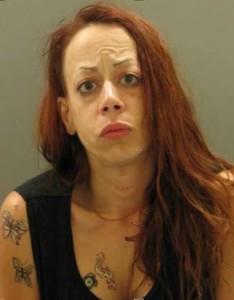 MIDDLETOWN, DELAWARE (7/22/2015) A 32-year-old Middletown woman was arrested after police said they seized more than 500 bags of heroin from her during an investigation into drug sales along U.S. 40 in Bear.
New Castle County police said their investigation, in conjunction with an FBI task force, focused on illegal narcotic sales in the area of the Glenn Motel.
Samantha Monroe, of the 500 block of Maple Ave.,  was arrested about 10 a.m. Tuesday when officers saw her enter a van with a man, New Castle County Officer First Class Tracey Duffy said.
The pair was stopped with help from Delaware State Police after the man driving made several traffic violations, Duffy said.
A K-9 sensed the narcotics in the van, which were then found inside a cooler, she said.
Investigators determined the drugs belonged to Monroe, Duffy said, and the man was just providing a ride. He was issued traffic citations and released.
Monroe was charged with possession of a controlled substance in Tier V quantity and possession with intent to deliver a controlled substance in a Tier IV quantity. She was being held atBaylor Women's Correctional Institution in lieu of $100,000 secured bail.