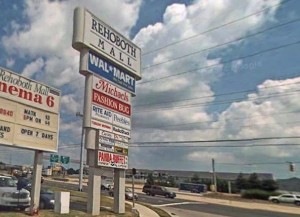 UPDATED STORY: 28-year-old man charged in 3 Rehoboth-area robberies
REHOBOTH BEACH, DELAWARE (7/17/2015) A thief grabbed cash from a woman inside the Walmart store off Route 1 near Rehoboth Beach and fled on foot with the loot, Delaware State Police said Thursday.
The incident happened about 6:20 p.m. Wednesday at 18922 Rehoboth Mall Blvd. at the Rehoboth Mall.
The victim, a 40-year-old Milton woman, was paying a bill at the customer service desk when a man came up behind her and took the cash out of her hand. She was not injured.
The robber was described as white, 25-27 years old and 5-feet-8 to 5-feet-11′ He was wearing a short-sleeve white T-shirt, light colored pants and sneakers.
Anyone with information is asked to call police at 302-856-5850.