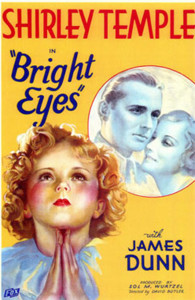 NEW CASTLE, DELAWARE (7/17/2015) A special program Sunday at the New Castle Court House Museum will honor the visit 77 years ago by famous child actress Shirley Temple.
At 2 p.m., the museum at 211 Delaware St. will present "Hollywood History at the Court House: 'Shirley Temple Day in New Castle.' "
The program will explore Temple's visit to the city on July 2, 1938, when she ate lunch in the Court House Tea Room, according to the Delaware Division of Historical and Cultural Affairs.
More than 300 people came to town to catch a glimpse of  "America's Little Sweetheart."
The program will include a screening of Temple's 1934 film "Bright Eyes," which focuses on the relationship between a bachelor aviator and his orphaned godchild. The film features Temple performing the song "On the Good Ship Lollipop."
Admission is free and open to the public but due to space restrictions reservations are recommended Call 302-323-4453. The museum will also open for visitation from 1:30–4:30 p.m.
In addition to the Shirley Temple program, the museum is featuring the exhibit "Emeline Hawkins: Her Journey From Slavery to Freedom on the Underground Railroad," about Hawkins and her family, and their 1845 jouirney on the Underground Railroad from slavery in Maryland, through Delaware to freedom in Pennsylvania.
Sculptures by Charles Parks, noted Wilmington artist, feature historical and political figures including a Minute Man, and presidents Richard Nixon, Gerald Ford and George W. Bush.